Top 10 Cars For Tall People
By Jakob Hansen, 7/28/2020
Just because you have long legs, doesn't mean you should suffer.
Related Articles
Some of us need more space than others. Our long legs and extended trunks require a bit more legroom than our fellow miniature citizens. Some may call us giants, but I prefer to think of the rest of the population as hobbits, it makes me feel like I'm better than everyone else.
In all seriousness though, extra legroom and headroom is a key issue for a significant number of car buyers today, and for us tall folk, this is one of the largest influences in our car shopping experience. A car without the right amount of room for our long legs is a serious problem and is the quickest way for a car to get bumped from our car shopping list.
In order to save you some time, and since we were helping one of our tall web designers shop for a car anyway, we put together a list of our favorite cars with enough legroom and headroom to fit even the lankiest of you lanky folk. Here are our Top Ten Cars For Tall People.
Subaru Forester
Hyundai Sante Fe
Chevrolet Traverse
Hyundai Veloster
Ford F-150
Subaru Ascent
Chevrolet Colorado
Nissan Rogue
Jeep Wrangler
Chevrolet Tahoe
#10.
Subaru Forester
Front Legroom: 43.3 inches $24,495-$34,595
The Subaru Forester not only has a great amount of front-seat space, but it also feels like it does. The open, airy cabin makes the compact SUV feel like a far bigger vehicle. The 42.1 inches of headroom and 43.3 inches of legroom make it so. The excellent packaging extends into the cargo space as well, with 35.4 cubic feet with the seats up and 76 cubic feet with them folded.
All around, this spacious SUV has always been one of our favorites. The well-equipped interior, the plethora of safety features available as standard, and the outstanding reliability of Subaru's have kept it high on our list. The fact that it has more legroom than its competitors makes it easy to add to this list as well.
#9.
Hyundai Santa Fe
Front Legroom: 44.1 inches $25,900-$37,500
The Santa Fe is another one of our favorites right now. The amazing warranty is only the first part that we love. The new model now features a larger cargo capacity than before, and updated standard safety features to include a wide array of active safety like lane keep assist, emergency braking, forward collision warning, and rear cross-traffic alert. The cabin is one of the best in class as well. With 41.2 inches of headroom and 44.1 inches of legroom, the Santa Fe is ready for even the longest of legs and lankiest of torsos.
#8.
Chevrolet Traverse
Front Legroom: 41 inches $29,800-$50,900
The Chevy Traverse has been featured on nearly all of our Top Ten lists, and for good reason, it is an outstanding vehicle. Featuring 41.3 inches of headroom and 41 inches of legroom, the Traverse is more than capable of taking on the long legs of even the tallest humans. The stout V6 and abundance of tech features add to the Traverse's excellent rating. Recently, cool features like Android Auto and Apple CarPlay, Wi-Fi hotspot, and advanced safety features have been added as standard features as well, further increasing its rankings in our book.
#7.
Hyundai Veloster
Front Legroom: 42 inches $18,500-$26,900
Who says you have to buy an SUV to get more space? The Hyundai Veloster is a small hatchback that has more space than even most third-row SUVs. At over 42 inches of legroom, the Veloster can easily take on even the tallest members of your family. Our favorite part of the Veloster, however, is its appetite for fun. Designed with "fun" built into its DNA, the zippy little car is tossable and light, but still stout enough to not feel like a tin box. Hop into a performance version, and the powerful turbo four pots will zip you along at quite the rate. It's the perfect vehicle for those of us that don't want to compromise fun for size.
#6.
Ford F-150
Front Legroom: 43.9 inches $28,495-$55,570
Let's be honest here, trucks clearly have a ton of space, and the Ford F-150 is no exception to this rule. At 43.9 inches of front legroom and 43.6 inches of headroom, the F-150 is perfect for us tall folk. Not to mention, the higher ride height means that it's easier to get in and out of and you don't have to be constantly bending down just to get into your car. The wide range of powertrain and cab options means there is a perfect option for every driver, and the quiet, upscale cabin puts the competition to shame. Overall, the classic F-150 nameplate still deserves its rank as the best.
#5.
Subaru Ascent
Front Legroom: 42.2 inches $31,995-$45,045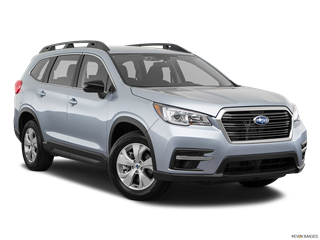 Much like its smaller relative, the Forester, the Subaru Ascent is highly regarded for its open, airy cabin, and massive passenger volume. With over 41 inches in headroom and 42.2 inches of legroom, the new Ascent is here to take on the best in its class. Up against some hard hitters like the Toyota Highlander, Honda Pilot, and Ford Explorer, the newcomer has quickly made a name for itself. Utilizing Subaru's excellent build quality and a long list of standard safety features including forward crash mitigation, adaptive cruise control, and lane assist, the Subaru Ascent has quickly made a name for itself in an extremely competitive class.
#4.
Chevrolet Colorado
Front Legroom: 45 inches $21,300-$46,500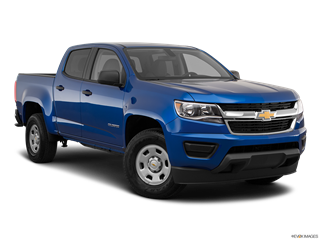 The Chevrolet Colorado is an easy choice on this list, as its stats are more than impressive. 41.4 inches of headroom and an insane 45 inches of legroom make this one of the largest cabins in the game, and a clear winner for best in class cabin size, easily beating out the Ford Ranger. Obviously the Colorado's running mate, the GMC Canyon, is working with the same massive cabin, but we prefer the look, and value, of the Colorado. The available ZR2 off-road pack is another influencer on our decision.
#3.
Nissan Rogue
Front Legroom: 43 inches $25,200-$32,940
Known for being one of the best value SUVs on the market today, we love everything that the Rogue has to offer. For those of you of the lankier variety, the Rogue has a lot to offer as well. With 41.6 inches of headroom and 43 inches of legroom, the Rogue is more than ample in terms of space. As stated, however, value is where the Rogue really shines and why it earns a spot on our list. With a low starting price and a hefty amount of standard safety features such as forward-collision warning, automatic emergency braking, blind-spot monitoring, and even pedestrian detection.
#2.
Jeep Wrangler
Front Legroom: 41.2 inches $28,295-$41,795
The surprise of the bunch, at least to us, is the Jeep Wrangler. What started off as a small off-roader, has grown to healthy dimensions to fit even the tallest individuals. Front headroom is up to 42.6 inches and front legroom is at 41.2 inches. The new Wrangler is less rugged an uncomfortable than previous models and is full of advanced features like blind-spot monitoring, Apple CarPlay, large touch screen, and even Wi-Fi hotspot, the Wrangler isn't only known for its off-roading prowess any longer. This is now a loaded SUV competitive with the best of the bunch.
#1.
Chevrolet Tahoe
Front Legroom: 45.3 inches $49,000-$62,700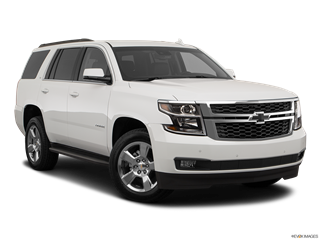 There isn't a better big boy vehicle than the Chevy Tahoe. The massive size, strong engines, and loaded interiors make this a class leader in every way possible. For the tall folk, headroom is up to 42.8 inches and legroom is 45.3 inches. The Tahoe has the most headroom of any vehicle that you can buy today (outside of its chassis-mates the GMC Yukon and Cadillac Escalade, of course). The value of the Tahoe over its shared platform brothers is what we love. The Tahoe can tow the world, pack away your whole house, and take an entire soccer team to the championships without even batting an eye.
Closing
When looking for a car, we all clearly have our own wants and needs. For those of us with legs long enough to reach the moon, we have a particular problem that much of the population doesn't have to deal with. Extra legroom and headroom are hard to come by, particularly when you have a unique set of other features that are important to you. Finding the right combination of feature, value, and cabin space can be a difficult proposition. That's why we like putting these lists together. We enjoy doing the searching and research for you, so that you don't have to! We do the same thing for our friends. Like we said, this particular list started when a web designer of the tall variety was looking for his next car, and wasn't sure exactly what to get himself into.
Keep your eyes out for those great end of the year deals, and as always, feel free to drop us a line if you have any questions!
Related Articles