Top 9 Cars That Hold Their Value
By Jakob Hansen, 10/31/2022
As cars age, they slowly lose value. What cars in 2020 lose the least amount of value?
Related Articles
Here at Rydeshopper, we love value. It's kind of our thing. So, when we got to looking at depreciation values of some of our favorite cars, we got a little excited to share what we found with you, our faithful audience. What we found is that some cars are even better at retaining their value than we thought.
Cars are driven, get dinged up, repaired, and driven some more. During that time, they lose much of their value. When you go to trade in or sell that vehicle, you learn the true price of ownership. Some makes and models retain a good deal of value, and depreciate at a less than average rate. If your car is on the following list, you have one of the Top 9 Cars For Depreciation. Here are the value kings and queens.
Top 9 Cars For Depreciation
Subaru WRX

Jeep Renegade

Honda HR-V
Chevrolet Colorado
Honda Pilot
Nissan Frontier
Toyota 4Runner
Toyota Tacoma

Jeep Wrangler
#9.
Subaru WRX
First Year Depreciation : 14.2% OR $4,115 MSRP: $27,495-$41,695
The Subaru WRX is no surprise here. Subaru has been building its reputation for value and reliability since their first little cars in 1968. Since then, the brand has continued to build value in itself as a trusty, reliable brand for everyone from Vermont rally teams to San Francisco's moms.
What used to be a small Japanese brand that barely made an impact on US sales figures has evolved to be the fastest growing car brand in the US. What's impressive is they still hold onto the values that made them famous here in the US in the first place: reliability and of course, AWD on every model.
The other side of the Subaru brand is motorsports, namely, rally racing. Since the early 90's, Subaru has dominated the rally scene with their flat-four engines and symmetrical AWD. The WRX is the street going version of their dominating rally car, and has been known to hold its value due to its reliability, excellent value, year-round performance, and die-hard fans.
#8.
Jeep Renegade
First Year Depreciation : 14.1% OR $2,897 MSRP Range: $22,275-$27,795
Jeeps are something of an anomaly for American vehicles. Where most American vehicles lose significant value as soon as you sign the dotted line, Jeep's religious fan-base and known reliability have kept them above the standard depreciation mark.
What started with the more off-road ready Wrangler, the entire Jeep line-up has benefitted from the brand's excellent reputation.
The Jeep Renegade, Jeep's smallest offering, is a no brainer for depreciation limits. The low starting MSRP combined with the brand's reputation means the depreciation values are low. Far lower than the other compact SUV's on the market today.
#7.
Honda HR-V
First Year Depreciation : 13.8% OR $2,885 MSRP Range: $20,820-$28,640
Riding a similar brand-wave as the Jeep Renegade, the Honda HR-V benefits from its older brothers and sisters in the line-up. Honda's outstanding reliability marks have been bequeathed to the baby-SUV Honda HR-V.
Being the smallest SUV offered by Honda, and therefore, the most affordable, the HR-V suffers less of a hit in the first year of ownership, since there is simply less percentage to take away from the original price. To top this off, the little HR-V has proven itself to be an excellent performing SUV with top-notch reliability and value.
#6.
Chevrolet Colorado
First Year Depreciation : 13.7% OR $4,154 MSRP Range: $21,300-$42,900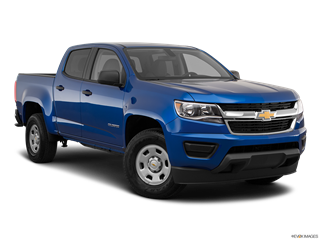 Pick-up trucks have traditionally always held their values better than SUVs or sedans, so it's no surprise that we have three on this list. Small trucks take a reduced hit in the first year as they have less to lose of their original price.
The Chevrolet Colorado is a clear winner on the list. As a truck, it already retains excellent value and the lower starting price helps eliminate much of the initial depreciation that a new vehicle sees.
The Colorado has also been receiving excellent ratings which helps the resale value remain high. As the long term reliability ratings roll, people are seeing that the Colorado is a reliable, affordable workhorse of a truck, and that means its value stays high.
#5.
Honda Pilot
First Year Depreciation : 13.7% OR $4,858 MSRP Range: $31,650-$49,720
Hondas have always had excellent resale value, mostly due to their outstanding reliability ratings. The Honda Pilot is no exception in this right. Receiving top picks from accredited raters the Pilot has proven itself to be an outstanding, practical third-row SUV.
While it may not be as pretty as some of the competition (Hyundai Palisade), it sure can perform. The reliability, fuel economy, and figures such as cargo space, are all superior to much of the competition.
What this means in the long is these reliable, practical cars have excellent resale value as they are able to do their intended task just as well as the day they drove off the lot.
#4.
Nissan Frontier
First Year Depreciation : 13.7% OR $4,858 MSRP Range: $19,290-$37,150
The Nissan Frontier has been chugging along in the background for some years now. Lost in the light to the popular trucks like the Toyota Tacoma and the back-from-the-dead Ford Ranger and Chevrolet Colorado, the Nissan Frontier has continued to be a small, affordable, reliable truck.
There is simply not much to the little thing, and since the new Frontiers are relatively similar to the pre-owned options, there isn't much incentive to buy new over pre-owned. Which is good for depreciation, but bad for Nissan sales. However, you, as the owner, benefit greatly.
#3.
Toyota 4Runner
First Year Depreciation : 12.7% OR $4,605 MSRP Range: $36,120-$49,865
Toyota SUVs are known throughout the world to be the most reliable vehicles around. The long lasting abilities of Toyota SUVs have proven themselves from everywhere from rural China to central Africa.
The Toyota 4Runner also has benefited from the recent uptick of interest in off road-ready SUVs. The rugged off road look has taken off and everyone wants an SUV that looks like it can tackle the Moab Trails.
What all this means for the 4Runner is the value has nearly stayed the same from purchase. A 12.7% depreciation rate is outstanding and breaks down to a mear $383 a month in your first year, unbelievable numbers for a family SUV.
#2.
Toyota Tacoma
First Year Depreciation : 10.4% OR $3,320 MSRP Range: $26,050-$46,665
The Toyota Tacoma pretty much checks all the boxes. It's a small to midsize truck, off road ready, world renowned reliability, and outstanding practicality.
The reputation alone of the Tacoma is enough to ensure its spot on this list. People want to know their vehicle is going to last even through the apocalypse, and there aren't many vehicles I would want to visit the end of the world in than a Tacoma.
People just can't get enough of the "Taco", and that means your resale value holds solid throughout the years. With a depreciation value of only 10.4%, you're almost losing money NOT buying a Tacoma.
#1.
Jeep Wrangler
First Year Depreciation : 8.9% OR $3,199 MSRP Range: $28,295-$38,625
The Jeep Wrangler is somewhat an anomaly on this list. They're not entirely practical, they aren't extremely comfortable, they aren't even all that efficient, but what they are, is a strong brand name that has held true to its values.
The Wrangler has always held an excellent resale value. Even 20-year-old Jeeps still pull excellent profits. The off road ready fun nature of these vehicles has enabled them to hold onto a die-hard fan base, and the dependability to back it up. Jeep has not let their fans down with the new JL platform and has continued to be the best off road vehicle you can buy.
Today's Jeeps are beginning to get more practical, even more reliable than they were already, and even more comfortable. Modern conveniences and safety features mean they have only increased their resale value throughout the years.
Closing
When shopping for a car, a practical shopper always looks at their vehicle as an investment. You will always be in the red when purchasing a vehicle – you still have to pay for the car that you used – but by buying smart, you can reduce the amount by a significant margin.
These top vehicles have proven themselves time and time again as being smart buys, and all earn a well-deserved Rydeshopper Smart Buy award.
Considering pre-owned? Interested in financing? Carvana has options for you! With Carvana, you can finance your vehicle with competitive rates, and can even utilize a co-signer! All of Carvana's vehicles are inspected and reconditioned by technicians and have no reported fire, frame, or flood damage according to CARFAX™ and AutoCheck®. Click Here to get pre-qualified with Carvana.

Related Articles