The Top 9 Vehicles for Winter Driving
By Matt Clayson, 11/25/2020
We're gonna get controversial. We love winter here at Rydeshopper. We love the crisp, cold air. The crunch of snow and ice beneath our feet. The silence of a late evening snowfall. The smell of wood smoke in the air.  Good, hearty food and good outdoor activity.  We're skiers, snowboarders, ice fishers, ice boaters, ice skaters, hockey players and hockey fans.   
Related Articles
Being headquartered in Detroit, we know a thing or two about winter and winter driving. We understand the importance of a vehicle that heats fast, maintains a consistent interior temperature, the value of confident traction and distributed power, the necessity of responsive braking, the need for a fast-acting windshield defroster and the fact that remote auto start, heated seats, and heated steering wheels are no longer luxuries but rather necessities.
So, when we looked at the top vehicles for winter driving, we went deep. We dug into standard features and packages, into performance and control stats and cross-referenced that research against personal experience and consumer feedback received from the thousands of in-market car shoppers we talk to each day. After much thought and deliberation, we were able to narrow to a solid list of what we believe are the top 2019 vehicles for winter driving.
#9.
Chevrolet Tahoe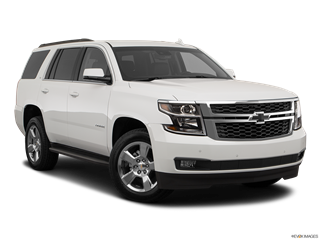 Tall and commanding, the Chevrolet Tahoe is a perennial favorite for winter sports enthusiasts who value reliable driving in variable conditions, generous interior space and big towing capabilities. Powered by a bulky, powerful 5.3-liter V8 engine which is paired with a six-speed automatic transmission, the Chevrolet Tahoe's powertrain is built for trailering ice boats, snowmobiles and ATV's. A refined interior includes three rows of seating, perfect for large groups and large families. Road and wind noise are minimal thanks to premium sound dampening; touchscreen infotainment and advanced climate control system is intuitive and easy-to-use. Gas mileage tracking 16 MPG combined is lackluster but expected given the engine and vehicle size. We've especially enjoyed the Tahoe for weekend trips to the many ski slopes that dot northern Michigan, where we appreciate the stability and confidence the Chevrolet Tahoe exudes while driving in snowy and slick conditions and the warmth of its interior cabin. Seeking an old school SUV that hauls and hauls while incorporating new school styling, fit and finish, then look no further than the Chevrolet Tahoe.
#8.
Jeep Grand Cherokee
As Jeep's flagship vehicle, the Jeep Grand Cherokee is as comfortable and smooth as it is versatile and capable for winter weather driving. Able to seat four comfortably and five in a pinch, the Grand Cherokee packs plenty of rear cargo room, maintains a solid and upscale interior and is adorned with premium touches, such as smoked wood accents, soft-touch materials and an easy-to-use, responsive touch screen entertainment system that is compatible with Apple CarPlay and Android Auto. The Grand Cherokee is one of the sportier driving vehicles on our list, powered by an adequate 3.6-liter V6 engine paired with an agile eight-speed automatic transmission. Touches such as titanium paddle shifters and a four-setting Selec-Trac 4-wheel drive management system ensure the driver remains engaged and in-control in changing winter weather conditions. Comfortable front and rear passenger seats ensure provide ample support for long drives. The climate package offers heated front row and rear seats, heated rear view mirrors and a heated steering wheel, amongst other features at a fair upcharge. If you are seeking a versatile vehicle that looks good inside and out and provides an engaging, confident winter driving experience no matter the condition, then look no farther than the Jeep Grand Cherokee.
#7.
Mercedes-Benz GLC
Driving the 2020 Mercedes Benz GLC reminds you that it is not only about where you are going, but how you get there. Our first winter drive in a GLC involved heading from Berlin to northern Bavaria via the A9 and A70 Autobahn routes and a stiff speeding fine, compliments of the GLC's confident and commanding drive and our limited understanding of how speed is regulated on the Autobahn during adverse winter driving conditions. Powered by a very capable 4-cylinder engine paired with a 9-speed automatic transmission, the GLC is built for driving enthusiasts, with ample power and responsiveness especially evident in the upper gears to support high-speed passing and rapidly changing road conditions. Interior spaces are refined, with wood and chrome embellishments and leather accents. Albeit loaded with navigation and sophisticated climate control features, the in-vehicle infotainment system is controlled by a clunky rotary knob and remains unintuitive – the powers-that-be in Stuttgart continue to have an aversion to touchscreens, contending that they have inherent quality issues. Space is ample, with enough room to store luggage, gear, and passengers comfortably.
#6.
Subaru Outback
Perfect for snow days, bluebird skies and long road trips through variable winter weather conditions, this reliable wagon haul skis to the powder, bikes to the trail, ice fishers to the lake as well as commuters to work and children to school. Secure, smooth and stable, it is powered by a 2.5-liter four-cylinder engine that delivers 24 MPG overall. Optional is a more powerful 3.6-liter six-cylinder engine that results in a quicker, quieter drive. Standard is Subaru's trademark all-wheel-drive system, ensuring confident handling in any winter weather condition.
A safe choice – take it from the US National Ski Patrol, not just us – the 2020 Subaru Outback includes standard advanced safety features such as forward-collusion warning, automatic emergency braking, lane departure, lane keeping, and sway warnings. Looking for a reliable, safe and enjoyable vehicle that can handle the various conditions encountered on a winter weekend road trip – look no further than the Subaru Outback.
#5.
Ram 1500 Pickup
Aggressive and rugged, this Doctor Jekyll and Mister Hyde of vehicles can haul heavy loads as well as families safely and confidently in a variety of on and off-road conditions. Redesigned for 2019, the Ram 1500 Pickup Truck shed unnecessary weight, added more passenger room, and has substantially upgraded interior trim, fit and finishes. The result, a surprisingly pleasant and confident ride that is comfortable and quiet regardless of winter weather condition, a capable off-road ride that can accommodate almost any off-the-grid snowy escape and plenty of cargo area for hauling coolers, ATV's, snowmobiles, tree stands, fishing poles and whatever else a weekend of outdoor winter adventure entails.
Looking for additional all-condition capabilities: then let us introduce The Rebel. Starting at a heftier $44,795 (add an extra $2,800 for a Crew Cab), The Rebel includes 33-inch Goodyear Duratrac tires, Bilstein shocks and a standard 3.6L V6 engine that produces 305 horsepower and 269 pound-feet of torque. Key off-road specs include 8.7-inches of ground clearance, an approach angle of 19, departure angle of 24.9 and breakover angle of 19.5. Rounded out with The Rebel badging and various interior embellishments intended to evoke ruggedness and durability, The Rebel remains the trim level of choice for those who enjoy dirt roads, deep two tracks, and extreme winter driving conditions.
#4.
Lincoln Nautilus
Many commentators have likened the 2020 Lincoln Nautilus and its predecessor, the MKX, to a library on wheels, and rightfully so. It features a warm cockpit that envelopes the driver, heated front-row passenger seats finished in supple "Earl of Weir" leather, refined metal and wood finishes and an easy-to-use, yet powerful and responsive next-generation climate control system. Spacious, heated rear passenger and generous cargo areas provide ample space for additional adult passengers and everyone's winter gear. With available all-wheel drive and powered by either a turbocharged 335 horsepower 2.7-liter V6 or a turbocharged 245-horse power 2.0-liter four-cylinder engine, the Nautilus confidently plows through snowdrifts, glides across slick surfaces and quickly responds to rapidly changing road conditions. Road noise is kept to a minimum due to premium noise dampening, ensuring nothing gets in between you and your colleagues' conversation or the sound delivered from one of Lincoln's signature sound systems. Confident and smooth handling ensure all arrive safe and unstressed. Pound for pound, the Nautilus tops in all categories of power, comfort, space, and handling.
#3.
Kia Sorento
Packing more value per pound than its Toyota or Honda competitors, the Kia Sorento continues to be top shopper choice in the midsized SUV class when it comes to durability and winter weather reliability. For those wanting to make a statement without sacrificing reliability, the Kia Sorento offers styling is more modern and aggressive than the Toyota Highlander or the Honda Pilot. With standard Electronic Stability Control and Electronic Brake-Force Distribution, the base Sorento provides a capable ride regardless of weather or road condition. Add available all-wheel drive and an available advanced cold weather comfort package and you're talking an affordable, reliable winter weather warrior. Packing three-rows of seating in the rear and a standard V6 engine with an all new eight-speed transmission under the hood, the Sorento is a good choice for an active family of winter enthusiasts looking to be transported worry-free and in comfort. And speaking of worry-free experiences, Kia placed as the highest ranked non-luxury car brand on J.D. Power's 2018 U.S. Vehicle Dependability Study.
#2.
Mazda CX-3
Compact, sporty yet solid and substantial, the Mazda CX-3 delivers winter weather drivers agile, fun-to-drive handling; a confident feel in variable and wintery conditions; and good fuel economy. Distinctive 18-inch wheels are standard on all models but the base; styling is aggressive and modern, evoking queues from niche premium brands such as Range Rover and Alfa Romeo. Powered by a peppy, 148-hp, 2.0-liter four-cylinder and a six-speed automatic, the CX-3 is a smooth in the city and capable on the highway. The infotainment system includes a 7-inch center display screen is large for its class; a rotary knob that controls phone and audio functions can be clunky at times. The rear seat is tight and cargo space modest, making it a good vehicle for wintery commuting but not that great for the winter weekend warriors seeking to hit up the slopes or haul two snowmobiles up to the leak. If you're looking for a vehicle that confidently handles variable winter weather conditions while packing value, efficiency, distinctiveness, and style for your daily commute, then look no farther than the Mazda CX-3.
#1.
Honda CR-V
You live in a mild climate. But at times, winter weather can get ugly. And you need a reliable vehicle to get you through those ugly times. Fortunately for you, there is the trusty Honda CR-V. With a surprisingly roomy cabin, a respectable 28 mpg overall fuel economy and confident handling, the CR-V is a versatile choice for a suburban commuter living in a mild continental climate. Vehicle Stability Assist™ with traction control, anti-lock braking system, and electronic brake distribution are standard on all CR-V's, providing drivers with the latest technology to assist in variable winter weather driving conditions. A standard 184-horsepower, 2.4-liter four-cylinder engine provide adequate power. And a 7-inch touchscreen infotainment system with Android Auto and Apple CarPlay compatibility ensure everyone is entertained during long drives and weekend road trips. Looking for a dependable and affordable vehicle for mild wintry conditions, then look no further than the 2019 Honda CR-V.
Related Articles