The Top 8 Vehicles for Road Trips
By MATTHEW CLAYSON, 11/25/2020
A century ago, the Model T – the world's first mass produced, affordable automobile – exposed millions of American's to the joys and freedoms of the open road. And neither America nor American's have been the same since.
Ford's Model T embedded into American DNA a culture of exploration and adventure; a restlessness to move from one place to the next, to see new sights, meet new people and embrace new experiences.

Be it a spontaneous drive down the Pacific Coast Highway, a family trip to Yellowstone National Park, a weekend getaway to the cottage or a cross country ski trip, the right vehicle can make the world of difference for those who enjoy the freedom of the American road the thrills of a roadtrip. Such a vehicle must be smooth, responsive, quiet and spacious; offering the driver an engaging driving experience, passengers ample comfort and all ample space for luggage, gear and coolers full of food for the road.

Being big roadtrippers, we've driven tens of thousands of miles in scores of vehicles. We took this experience and our favorites, and cross-referenced them against the conversations our Segment Specialists have had with tens of thousands of in-market car shoppers who contacted us with questions about vehicles that best fir their life. We then narrowed the list, which was pretty exhaustive, based on the following criteria: comfort and ride, power and responsiveness, versatility and storage.

So, have a desire to pop in some Gordon Lightfoot – we prefer "Carefree Highway" though we'll settle with "Sundown" – pack the cooler with some good sandwiches, chips, cookies and soda, throw in the weekend bags and hit the road? Then be sure to check out first our picks for the top vehicles for roadtripping and get yourself in the right car.

#8.
Ford Flex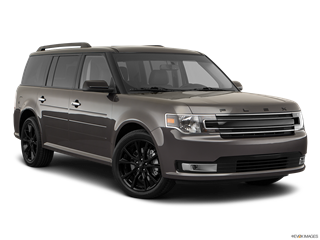 Yes, Ford will be soon discontinuing the Flex. And we're sad because the Flex is the perfect vehicle for long, comfortable roadtrips. Our first roadtrip in the Flex involved heading from Detroit to northern Michigan; seating was spacious and comfortable, ride was smooth and a full-length vista roof ensured the drive was flooded with natural light. Subsequent trips involved winter conditions, hauling bikes, coolers and antique shop finds and long cross-country jaunts through windy, rainy and foggy conditions. Regardless of the weather, loads or destinations, the Flex handled tackled each with confidence and comfort. Powered by a base 3.5 liter V6, the Flex can approach an impressive 28 MPG on the highway. A less impressive 18 combined MPG is achieved when the Flex encounters stop-and-go city driving. A Sync 3 infotainment system ensures drivers and passengers have the latest technology to keep aware of changing road conditions, to discover hidden gems and to keep entertained over those long expanses of open road.
#7.
Lincoln Nautilus
Many commentators have likened the Nautilus and its predecessor, the MKX, akin to a library on wheels, and rightfully so: a warm cockpit envelops the driver and front-row passenger in soft "Earl of Weir" leather, metal and wood. Spacious rear passenger seating is akin to domestic first class; soft leather, generous recline, full leg room for even the tallest passengers. Our first roadtrip in a Nautilus involved driving from Detroit to Quebec through a windstorm and blizzard, and involved hauling ski gear for four, a cooler full of food and way more luggage than was needed, and the drive was a complete joy. Powered by either a turbocharged 335 horse power 2.7-liter V6 or a turbo charged 245-horsepower 2.0-liter four cylinder engine, the Nautilus is engaging and responsive to drive. Road noise is kept to a minimum due to premium noise dampening; ensuring nothing gets in between you and your colleagues' conversation or the sound delivered from Lincoln's signature sound systems. Ample storage in the center console and in door side compartments provide room for water, snacks, mobile devices and anything else a driver or passenger needs to ensure comfort with minimal disruptions. Confident and smooth handling ensure all arrive safe and unstressed. Pound for pound, the Nautilus tops in all categories of power, comfort, space and handling.
#6.
Jeep Grand Cherokee
As Jeep's flagship vehicle, the Grand Cherokee is as comfortable and smooth as it is versatile and capable. Our experiences in the Grand Cherokee included countless drives to local ski hills through every condition imaginable as well as on and off-roading treks through national wildlife refuges and state game areas. Able to seat four comfortably and five in a pinch, the Grand Cherokee packs plenty of rear cargo room, maintains a solid and upscale interior and is adorned with premium touches, such as smoked wood accents, soft touch materials and an easy-to-use, responsive touch screen entertainment system that is compatible with Apple CarPlay and Android Auto. The Grand Cherokee is one of the sportier driving vehicles on our list, powered by an adequate 3.6-liter V6 engine paired with an agile eight speed automatic transmission. Touches such as titanium paddle shifters and a four-setting Selec-Trac 4-wheel drive management system ensure the driver remains engaged and in-control. Comfortable front and rear passenger seats ensure provide ample support for long drives. If you are seeking a versatile vehicle that looks good inside and out and provides an engaging, confident driving experience no matter the condition, then look no further than the Jeep Grand Cherokee.
#5.
Buick Enclave
Base MSRP Range: $55,800
Buick has built a brand that is all about moving from point A to point B in comfort and style. And nowhere is this more evident than in the redesigned and reengineered 2019 Buick Enclave. With more space and improved fuel economy, the 2019 Enclave is a roadtripping boss. Accommodating three rows of seating, the cabin is roomy and well-apportioned. A 3.6-liter V6 engine paired with a responsive nine-speed automatic transmission generates a respectable 18 MPG combined fuel economy, which we find admirable given this vehicles weight and size. An intuitive infotainment system synchs effortlessly with Apple CarPlay and Android auto, providing occupants with endless entertainment, navigation and exploration options.
#4.
Mercedes-Benz GLC
Driving the 2019 Mercedes Benz GLC reminds you that it is not only about where you are going, but how you get there. Our first roadtrip in a GLC involved driving from Berlin to northern Bavaria via the A9 and A70 Autobahn routes, where we not only managed to travel across expansive rolling plains, through switchback mountain passes and on country roads compliments of a not-so-well marked detour route, but also were able to rack up something we thought was impossible – a speeding ticket on the autobahn, compliments of the GLC's confident and commanding drive and our limited understanding of the German language. Powered by a very capable 4-cylinder engine paired with a 9-speed automatic transmission, the GLC is built for open road driving, with ample power and responsiveness especially evident in the upper gears to support high speed passing and autobahn like conditions. Interior spaces are refined, with wood and chrome embellishments and leather accents. Albeit loaded with features, the in-vehicle infotainment system is controlled by a clunky rotary knob and remains unintuitive – the powers-that-be in Stuttgart continue to have an aversion to touchscreens, contending that they have inherent quality issues. Space is ample, with enough room to store luggage, gear and passengers comfortably.
#3.
Alfa Romeo Stelvio
With a driving experience as distinctive as its styling, the Alfa Romeo Stelvio delivers tight handling, an engaging powertrain and an athletic ride. A quiet cabin and a contemporary cockpit design result in a satisfying driving position and experience. Attractive leather seats and rich aluminum accents throughout the cabin provide a premium feel. A spacious rear cargo space and fold flat rear seats can accommodate enough luggage and gear for a long weekend outstate. Powered by a turbocharged four-cylinder 280 horsepower engine paired with a peppy eight-speed automatic transmission, the Stelvio drives more like a sports car than a CUV, making it a perfect match for winding coastal roads, tight mountain roads and engaging city driving. Tight suspension, responsive steering and firm braking ensure hour upon hour of engaging, energizing driving.
#2.
Chevrolet Tahoe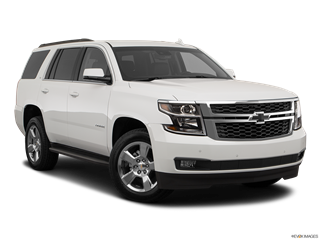 Tall and commanding, the Chevrolet Tahoe is a perennial favorite for outdoors enthusiasts who value reliable driving in variable conditions and big towing capabilities. Powered by a bulky, powerful 5.3-liter V8 engine which is paired with a six-speed automatic transmission, the Chevrolet Tahoe's powertrain is built for trailering big boats, snowmobiles, ATV's and camper. A refined interior includes three rows of seating, perfect for large groups and large families. Road and wind noise are minimal thanks to premium sound dampening; a touchscreen infotainment system is intuitive and easy-to-use. Gas mileage tracking 16 MPG combined is lackluster, but expected given the engine and vehicle size. We've especially enjoyed the Tahoe for weekend roadtrips to the lake, where we enjoy the stability and confidence it exudes while driving in dusk and evening conditions. Seeking an old school SUV that hauls and hauls while incorporating new school styling, fit and finish, then look no further than the Chevrolet Tahoe.
#1.
Subaru Outback
Perfect for snow days, bluebird skies and long road trips through variable weather conditions, this reliable wagon haul skis to the powder, bikes to the trail, flyrods to the stream as well as commuters to work and children to school. Secure, smooth and stable, it is powered by a 2.5-liter four-cylinder engine that delivers 24 MPG overall. Optional is a more powerful 3.6 liter six-cylinder engine that results in a quicker, quieter drive. Standard is Subaru's trademark all-wheel drive system, ensure confident handling in any condition.

A safe choice – take it from the US National Ski Patrol, not just us – the 2019 Subaru Outback includes standard advanced safety features such as forward-collusion warning, automatic emergency braking, lane departure, lane keeping and sway warnings. Looking for a reliable, safe and enjoyable vehicle that can handle the various conditions encountered on a roadtrip – look no further than the Subaru Outback.
Related Articles