Top 10 SUVs for 2019
By Jakob Hansen, 2/22/2021
With the coming of the new year, we look back at our favorite SUVs of the year.
Throughout the year, we keep tabs on all of the favorite cars we drove, and like to look back at them around this time of the year. 2019 had many great cars, trucks, and SUVs, and truthfully, it's hard to narrow them down to only ten of each!
Regardless, out of the 300+ models available right now, we were able to narrow it down to our favorite ten in each category. For SUVs, we focus on several factors, and value is first in our book. As a value-driven publication, we clearly try to focus our approach on value. Value can mean many different things to many different people and so we try to look at it as objectively as possible. We also take into consideration many other factors such as stand out features, luxuries, size, off-road abilities, sales data, and everything in between.
Picking a top SUV of the year proved to be a difficult task this year, as we had so many excellent contenders. From the Kia Telluride to the Lamborghini Urus (we reluctantly left that one off the list), there has been a serious increase in great vehicles this year. We already covered sedans in a previous post, so let's get started on pursuing down the Top Ten SUVs of 2019.
#10.
Nissan Kicks
The little Kicks is an inexpensive alternative to small cars. The Kicks is the lowest starting priced SUV on the market today, and can be directly compared to small cars in cost, yet has so much more to offer. A larger interior means you can fit more inside, and be far more comfortable, than in any small car. Even better is the excellent fuel economy, tons of available features, and a cabin that feels higher than its price point. The real feature here though, is the great affordability.
#9.
Hyundai Kona
The Hyundai Kona is an excellent choice for this list. The little SUV is funky, fun, and more than well equipped. It's truly one of our favorite value vehicles available today. For being an SUV, it's outstanding to drive with excellent road agility. Inside, the cabin is clearly designed to fit larger occupants, in the front at least, and it has more than ample room. In fact, the Kona has more legroom than several other third row SUVs.
#8.
BMW X5
The BMW X5 is the most solid feeling SUV available on the market today. It literally feels like this thing was put together using technology only known to those that have had close encounters of the third kind.
What's more, the interior is loaded with features that aren't even known about to the average buyer, such a parking assist that can automatically drive the car out of a parking spot using the same steering inputs used when pulling in.
The plethora of engine options means there is an X5 for every flavor, and the gorgeous interior will leave you happy every time you jump into the X5.
#7.
Toyota RAV4
The RAV4 is well-deserving of a place on this list, just from sales figures alone. 2019 was the best sales year for the RAV4, the highest selling SUV in its class, and for good reason, the RAV4 is one of the best value SUVs available. There are tons of available features, including advanced safety features that come as standard.
The updated interior is well put together in most places and when equipped with the funky orange accents it's one of our favorite interiors out there.
Plus, we have to say that we LOVE that two tone paint.
#6.
Audi e-tron
Audi's first venture into the electric world has impressively shown how "normal" electric cars can really be. What Audi created with the e-tron was the most normal feeling electric car ever made.
Serving as a compliment, being normal is what many customers are looking for. They don't need crazy falcon doors, biological warfare mode, or crazy styling. They just want a regular car, that operates as normally as possible, and at a reasonable price. Audi delivered exactly that, but also injected Audi quality, luxury, and features along with it. Truly the perfect package.
#5.
Subaru Ascent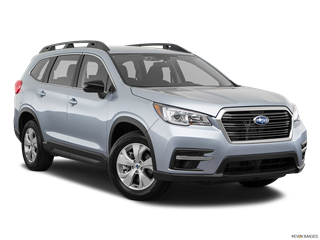 Subaru's first venture into the third-row SUV market, the Ascent takes place at the top of Subaru's line-up. Like the Forester, the Ascent has a long list of standard features, including, of course, standard AWD.
But unlike much of Subaru's other vehicles, the Ascent makes excellent use of high-quality materials resulting in a high-class, comfortable cabin.
The best thing about this SUV is it takes everything we already love about Subarus and puts it in a bigger and better package.
#4.
Kia Telluride
Kia's new full-size SUV, the Telluride, competes with the best in the segment. The large interior is complemented with its upscale materials and impressively comfortable seats.
Adding to the upscale interior is a full-array of features including an advanced safety suite with adaptive cruise, lane keep, and much more, as well as other driving features such as driving modes and off road modes.
The styling looks better than most other SUVs in its class, and mix that with the great use of materials on the interior, and the Telluride starts to seem like an SUV that competes far out of its class.
#3.
Mazda CX-5
The Mazda CX-5 is a wolf in sheep's clothing. You may think it's just a Mazda, but you couldn't be more wrong. The attractive and upscale interior are on par with vehicles for out of its price range. The sleek exterior is beautifully designed and makes for an actually attractive SUV. On-road abilities are impressive as well, especially for a midsize SUV. It actually has an athletic ability when cutting through the curves.
The CX-5 comes equipped with plenty of power from its turbo engine or optional diesel. To complement the power, the interior is well equipped and features like ventilated seats, 365-degree view camera, excellent materials, and plenty of sound deadening to keep it quiet, even at speed.
#2.
Subaru Forester
When it comes to value, the Subaru Forester is the number one contender. Starting at just over $24,000, the Forester comes loaded with both active and passive safety features to keep you and your family safe. Things like adaptive cruise control, automatic braking, pedestrian detection all come standard right out of the box.
Along with that, there is standard AWD, Apple CarPlay, and many more. But the real value is the standard full safety suite available from base level up. Subaru is charging forward and taking on the big names like Honda and Toyota, and they have been wildly successful so far.
#1.
Volvo XC40
We can't even deny it, we are huge Volvo fans here in Detroit. The updated Volvo platforms have taken our hearts and we simply can't get enough of them. The baby Volvo SUV, the XC40, is the one that captured our hearts the most this year. The stubby little SUV is absolutely packed with features, has a giant vertical screen, and features some of the best safety and autonomous driving found on the road today. We love the two tone paint and roof and upscale interior. Don't be surprised by the attractive short, stocky look, this little SUV packs a ton of space inside.
Closing
Whether you are happy about it or not, SUVs are now dominating car sales across the board. The lifted drivetrains are easier to get in and out, have much better road handling over our increasingly shattered roads, and can fit more stuff than your average sedan. You can't blame the buyers. What's more, prices for SUVs are competitive with the best cars in similar classes, and so consumers don't have to make many sacrifices to hop into an SUV.
Over the past year, we drove many great SUVs, so many that it was difficult to narrow it down to such a slim margin. We are excited to see what the market will continue to offer as the manufacturers make better and better SUVs.
Related Articles