Top 10 SUVs for Towing
By Jakob Hansen, 8/16/2022
Some of us still like to travel the old school way. Family in the back, luggage stacked up, pulling the camper or the boat, headed up north.
What do you do when you need to tow, but the small cab of a pick-up isn't large enough to haul you, your family, your cargo, and still tow your trailer? When you have more stuff than you know what to do with, and a trailer that weighs more than a car, you need an SUV that can tow.
In recent years, it feels as though the amount of real SUVs has been diminishing, skimming those options down for those of you that require space and towing ability. But this couldn't be further from the truth. Right now, there are tons of SUVs that can tow more than 7,000 pounds, and some that can pull much more. The time is right for SUVs that can tow, and we have the hookup.
For this article, we will exclude the pick-up trucks. However, for reference, the towing capacities are as follows: Ram 1500 (12,750 lbs), Ford F-150 (13,200 lbs), and Chevrolet Silverado 1500 (13,400 lbs). The pick-up trucks are all classified in a higher towing class.
#10.
Audi Q7
Base MSRP with Tow Package: $59,950
When you're not willing to compromise on your luxury, but still need space and towing ability, here is your first option. The Audi Q7 offers tons of third-row capable space, a gorgeous luxurious interior, and a towing capability of up to 7,700 lbs.
To be able to tow, the Towing Package is required and includes a tow hitch, connectors, and even a brake controller hook up, which is surprising in an Audi. All in all, when equipped with the turbo V6, the Audi puts up an impressive towing capability.
#9.
2019 Range Rover Sport
Base MSRP with Tow Package: $67,500
Power is a funny thing. What works to move a heavy SUV from 0-60 in only 4.3 seconds, can also help to haul around a ton of weight. Both the 3.0l supercharged V6 and the 5.0l V8 in the Land Rover Range Rover Sport can haul around a fair amount of weight. Up to around 7,700 pounds.
To top that off, the Range Rover tech features awesome towing features that make is easier than ever before to back up your trailer.
#8.
Toyota Land Cruiser
Base MSRP with Tow Package: $85,165
The Toyota Land Cruiser is a little talked about vehicle, but is one of the best all-rounders available today. A high price tag is justified with proven reliability. Built to last for at least three decades, as stated by Toyota, the Land Cruiser is man's true best friend.
The off-road prowess is unmatched in the Land Cruiser and the endless features are nothing to laugh at. Power comes from a 5.7l V8 putting out 381 horsepower and 401 lb-ft torque. Altogether, the Land Cruiser can tow up to 8,100 lbs.
#7.
2019 Land Rover Discovery
Base MSRP with Tow Package: $52,950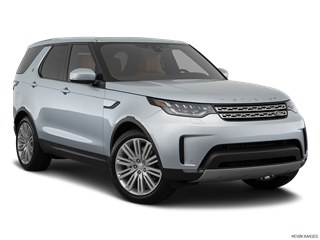 The Land Rover Discovery is marketed as the best off-road vehicle available to buy. What people don't always think about with the Disco is the towing capabilities.
The 3.0l supercharged V6 is shared along much of Land Rover/Jaguars line-up, and is a fantastic power plant. Combined with the tow package, the Land Rover Discovery is capable of towing up to 8,200 lbs. Not bad for a V6!
Even better the advanced tech of Land Rover can make towing a snap. Features like Advanced Tow Assist, which handles all steering inputs for you, make it so you can trailer like a pro, even if you only tow once a decade.
#6.
2019 Infiniti QX80
Base MSRP with Tow Package: $65,000
Infiniti's full-size SUV, the QX80, is a serious contender in the SUV game. The large, stylish exterior looks better than most others, and the comfortable and well-equipped interior makes for a great place to be seated for long trips. Don't forget, the Nissan family, including Infiniti, have some of the absolute best seats available.
Towing is helped along by a 400 horsepower 5.6l V8 that gives the QX80 the ability to tow up to 8,500 lbs.
#5.
2020 Nissan Armada
Base MSRP with Tow Package: $47,100
The Infiniti QX80's cheaper (and less attractive) sibling, the Nissan Armada, still comes with the same 5.6l V8, though it's down 10 horsepower to 390, but retains the same impressive 8,500 lbs towing capacity.
The Armada is a fairly capable SUV, and often gets overlooked by those looking for a full-size SUV with a V8. The high-reliability ratings, proved longevity and power of the 5.6l V8, and a low starting price should make this SUV a serious contender on your list.
#4.
2020 Chevrolet Tahoe
Base MSRP with Tow Package: $48,000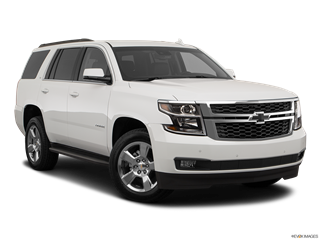 When I started this list, I immediately thought of the Tahoe, and to be fair, I thought it would be at the top of our list. While the 8,600 lbs of towing is impressive, I was surprised to see the tried and true Tahoe get beaten out. For the sake of this list, I'm also going to rope the Chevrolet Suburban (8,300 lbs/$50,800), GMC Yukon (8,500/$49,600) and Cadillac Escalade (8,300/$75,195). Otherwise, this list would quickly become a GM centric top ten.
Regardless, the Tahoe/Yukon/Escalade family is powered by an excellent 5.3l V8 or a more powerful 6.2l V8 that can tow slightly more. Needless to say, this classic trio are still one of the best towing SUVs available, but I was surprised to see them not higher on the list. Maybe it's time to rethink what SUV you'll be buying.
#2.
2019 Dodge Durango
Base MSRP with Tow Package: $63,245
Even though the Dodge Durango is now roughly as old as my grandfather, Dodge continues to come out with updated trims. The latest, the Durango SRT, comes with a massively powerful 475 horsepower 6.4l V8. This updated engine comes with more benefits than a better 0-60 time however, it also pushes the Durango into second place for towing.
Swinging in at a starting $63,245, the Durango SRT is a bit higher than we'd like to see from a ten-year-old platform, but the 8,700 lbs towing capacity is nothing to turn your nose up at. And the added benefit of the aggressive styling, SRT suspension and brakes, and the awesome power bump for normal driving, it comes out as a reasonable package.
The Trailer-Tow Group IV package is needed to achieve the highest tow rating, which adds an additional $1,195 to the already bulging price.
#1.
2020 Ford Expedition
Base MSRP with Tow Package: $52,130
For those of us that have the biggest trailers of them all. The Ford Expedition is here to rescue. The 3.5l EcoBoost puts out an impressive 375 horsepower and 470 lb-ft of torque. That torque is where the high towing ability comes from.
When equipped with the Heavy-Duty Trailer Pack, the 2019 Ford Expedition can tow up to 9,300 lbs. This package also includes awesome features like the Pro Trailer Backup Assist, which allows you to easily backup the vehicle with a trailer in tow with a simple turn of a knob. Also included is the Blind Spot Information System (BLIS®) with Trailer Coverage, and several other trailering features that make your life just that much easier.
Closing
For those of us that actually use our vehicle for more than just getting back and forth from work, these are the SUVs for you. They can haul the family, the dogs, your best friends, their luggage, and tow the boat. The true do-it-all utilitarian vehicle. And when a pickup truck just simply won't do, these are the vehicles that you need to get into.
Related Articles