Top Ten Cheapest Vehicles to Insure in 2019
By Jakob Hansen, 2/22/2021
Insurance isn't always the first thing on our mind when considering a new vehicle, but insurance rates can double your monthly payments, so choosing the right vehicle to keep rates down is an important decision.
When shopping for our next vehicle, the majority of us break it down to monthly costs. What can I afford? How much can I spend per month? But something we often forget to take into account until the very end is the insurance rate,
Each driver is quoted rates based on many factors including age, sex, driving habits, driving record, location, willingness to give up your firstborn, etc. Okay, the last one may not be true, it can seem that way though. Many factors you don't have much control over, and unless your firstborn has been making parent teacher conferences a bit uncomfortable, you probably aren't willing to. You do have substantial control over one factor however, the vehicle you drive.
Insurance rates can vary depending on the make and model of your vehicle. Sports cars and luxury brands typically have substantially higher rates because of expected driving habits and costs of repairs. Family sedans and SUVs, on the other hand, bring more reasonable values as you are less likely to understeer a Toyota Highlander into a side rail, despite your best Jim Clark impression.
Keep in mind, not only the make and model are important, but some trim levels will have better rates as well. Things like advanced safety features and repair costs of different trims will influence the insurance costs as well.
According to NerdWallet, here is the list of the cheapest vehicles to insure in 2019. The rates are based on national averages for full coverage insurance as an average driver. You might want to take a look at these, especially if that firstborn is about to get his/her licenses.
#10.
Jeep Cherokee
Yearly Rate: $1,579
The Jeep Cherokee is one of the top sellers for FCA. Filling the essential small SUV class for the international conglomerate, the Jeep Cherokee is a principle vehicle. The cheap repair costs and reliability of the Cherokee keep insurance premiums down to a minimum. The off-road and on-road capabilities make it a perfect family SUV for those that like to experience a little more of the wild side of the United States.
#9.
Toyota Tacoma
Yearly Rate: $1,571
The classic Toyota Tacoma is no surprise here on this list. The excellent crash test ratings, reliability ratings, and old school truck frame keep the ownership costs and insurance cost of the mid-size truck down to a minimum. The excellent driving record of Tacoma owners and long term ownership of most Tacomas also helps to keep the premiums down. All-in-all, the Toyota Tacoma is one of the top rated trucks available today. This, along with the low ownership costs and low insurance premiums make it one of the best choices for those in need of an affordable truck.
#8.
GMC Sierra 1500
Yearly Rate: $1,563
The GMC Sierra 1500 is on this list for several reasons. The loaded truck comes packed full of advanced safety features, making it one of the safest trucks to own today. Advanced cruise control, automatic braking, and automatic high beams all score big points for the insurance companies. This, along with the excellent driving record and age of most GMC Sierra drivers, means the rates aren't as high as trucks such as the F-150 or Ram 1500.
#7.
Chevrolet Equinox
Yearly Rate: $1,551
The Chevrolet Equinox comes in at number 7 for the cheapest vehicle to insure because of its excellent crash test ratings, safety features, and low repair costs. The Equinox has long been a workhorse of the GM brand, making the best sellers list every year. The low purchase price and low insurance costs make it a perfect vehicle for those looking for an affordable vehicle with the lowest overall monthly rate.
#6.
Subaru Forester
Yearly Rate: $1,537
The new 2019 Subaru Forester may look similar to last year's model, but has an entirely new platform underneath. The new platform comes standard with Eyesight Driver Assist Technology which includes automatic braking, adaptive cruise control, lane departure warning, and lane-keep assist. These standard safety features along with the outstanding driving record of the average Forester owner all lend towards its low premiums.
#5.
Ford Escape
Yearly Rate: $1,503
The 2019 Ford Escape is another vehicle that owes its low insurance costs to its low repair costs. Estimated as one of the lowest cost to own vehicles, this comes as no surprise. Not to mention, the low starting price of the vehicle means that the insurance companies don't have to shell out as much dough when the unpredictable does happen. Helping you save money in the long run.
#4.
Jeep Compass
Yearly Rate: $1,497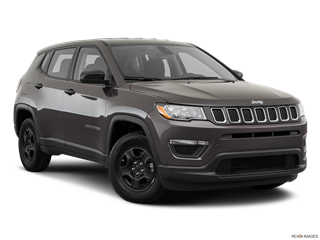 The Jeep Compass, a great small SUV that has been a part of our road system since 2007. It's an outstanding vehicle for the customer looking for the best all-rounder vehicle at a cost. The Jeep Compass has one of the lowest MSRP's in its class with some of the largest rebates and discounts. Moreover, due to the low initial cost and low repair costs, the insurance premiums are nearly as low as they can be, even for drivers that don't have a perfect record.
#3.
Honda CR-V
Yearly Rate: $1,474
The Honda CR-V has been one of the highest-rated vehicles every year since its debut. The outstanding reliability ratings, interior space, and utilitarian nature of the SUV make it one of the best buys on the market. Even better, the affordable low insurance rates mean that ownership costs are more affordable than ever.
#2.
Jeep Wrangler
Yearly Rate: $1,455
The Jeep Wrangler is an American classic that continues to live strong into its new body style. Holding true to its roots, the 2019 Wrangler is the most capable off-road vehicle you can buy today, and bonus, you can still take the doors off. Available through a wide price range, there is a Wrangler for almost every customer, and since insurance rates are the second lowest in the country, you can even move up to the Wrangler Rubicon, with locking diffs and electronically disconnecting sway bars.
#1.
Subaru Outback
Yearly Rate: $1,429
Is it a car, a wagon, or an SUV? Subaru isn't even really sure, they basically just avoid giving it a title and leave it at that. Whatever it is, the Subaru Outback is one of the best most practical vehicles available today. More ground clearance than a Jeep Grand Cherokee, more cargo space than a Toyota RAV-4, and lower insurance cost than any other vehicle. If you are looking for the perfect practical car that can handle anything you throw at it along with giving you an affordable low monthly rate, the Outback is undoubtedly the one to choose.
Closing
While this may be a comprehensive list that ranks the costs from highest to lowest, don't think you have to end up in the pseudo-wagon Subaru Outback. Insurance rates change depending on trim, age, sex, and more. For you, the most affordable vehicle may be something else entirely. However, this is a useful list to keep in mind when shopping for an affordable vehicle.
Keep in mind as well, each insurance company can give you estimates for your shortlist of cars, making shopping even easier. Adding to this, the difference in cost between these top ten cars is only $126, which comes out to $9 a month. So while one may be slightly more affordable than the other, don't let your wallet be the only factor influencing your decision. You have to LOVE your next car, or you'll be disappointed the whole time you own it.
Regardless of what vehicle you decide to go with, we can help you get the best cost.
Related Articles