Top 9 Vehicles for Uber and Lyft Drivers Who Want to Increase their Earnings
By MATTHEW CLAYSON, 10/31/2022
We're going to switch gears here, moving from cars that people want to drive to cars where people want to ride. Because, for Uber and Lyft drivers, the rider comes first. And that means that space, comfort and style matter.
Uber and Lyft riders are looking for a spacious, smooth and distinctive ride, allowing them to arrive to their next destination refreshed and in-style. And Uber and Lyft drivers are looking for vehicles that pack value, performance and efficiency, balancing rider demands for comfort and style against monthly payments, fuel economy, insurance and maintenance costs.

With these factors in mind, we're going to forego the Camry, the Impala, the Accord and Fusion - the predictable sedans that grace acres upon acres of rental car lots all-the-while receiving countless accolades as top cars for Uber and Lyft drivers. Sure, they're reliable, affordable and can rack up the miles. But, in an increasingly competitive automotive marketplace where styling and comfort matter as much as affordability and reliability, there are dozens of vehicles that pack better space, performance and style – allowing Uber and Lyft drivers to stand out from their competitors, increase earnings, maximize margins and, most importantly, transport satisfied riders. Below are some of our favorites.

#9.
Jeep Compass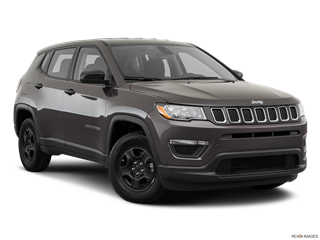 Sitting between the Jeep Renegade and the Jeep Cherokee, the Jeep Compass has been entirely redesigned for the 2018 model year. With interior and exterior styling referencing its larger Jeep Grand Cherokee sibling, the Compass maintains an aggressive stance, a spacious cabin, and surprisingly refined interior finishes. Its steering wheel is substantial and beefy, exuding confidence and comfort – which matters when you're driving hours every day. Touch controls for entertainment and climate control systems are intuitive and responsive. Rear passenger seating is comfortable and spacious and rear cargo space accommodates large luggage pieces and sporting items. Power comes from a 180-hp, 2.4-liter four-cylinder, an engine that delivers enough pep when pushed. Unfortunately, it is paired with a nine-speed automatic transmission, which is not entirely responsive or agile. The ride quality is firm and aggressive; and, importantly, interior cabin noise is minimized as a result of tight-fitting components and good sound dampening. Available safety features include forward collision warning, lane-departure warning, and blind-spot warning. Standard is Jeep's cutting-edge styling and its legendary brand DNA, enabling Uber and Lyft drivers to make a firm statement when providing a ride.
#8.
Chevrolet Traverse
In the case of the all-new, redesigned Chevrolet Traverse, bigger is definitely better. Combining a quiet interior, a very comfortable ride, and responsive handling, the Traverse is a viable alternative to full-sized passenger sedans such as a Camry or Accord. With three rows of seating, high ground clearance, and an upright stance, it is a much more affordable alternative to many full-sized SUVs, such as the Chevrolet Suburban or Ford Expedition. Its 3.6-liter V6 engine combines ample power and quick acceleration with decent fuel economy - 20 mpg overall. Rear passenger seating includes comfortable second-row captain's seats and a roomy third-row bench seat. For those seeking a real people hauler, an eight-passenger configuration is available. An intuitive infotainment system rounds out the driver and passenger experience. Available on top trims levels are a forward-collision warning and automatic emergency braking. For those Uber and Lyft drivers with families, there is an available system that monitors teen drivers and a rear-seat reminder designed to prevent a small child from being left unattended in the Traverse. Combine space, comfort, and value, the Traverse is a perfect vehicle for the Uber or Lyft driver who wants to serve business travelers and large groups over longer distances.
#7.
Volkswagen Passat
Despite certain assertions otherwise, mid-sized sedans still serve a purpose. They handle well, are spacious, are reliable and are efficient. Yet, they often get a bad rap: they're bland, predictable and not that much fun to drive. Fortunately, for those Uber and Lyft drivers looking for the convenience of a sedan without the bland baggage, there's the Volkswagen Passat. Uber and Lyft riders will appreciate the Passat's generous interior space and spacious rear seats while Uber and Lyft drivers will enjoy its responsive handling. All will appreciate the Passat's comfortable, quiet ride and improved interior fit and finishes. Powered by a 2.0-liter, turbocharged four-cylinder paired with a six-speed automatic transmission, the Passat is smooth and peppy – perfect for highway driving. The Passat also leads its class when it comes to safety, with forward-collision warning, automatic emergency braking, blind-spot monitoring, and rear cross-traffic alert all standard for 2019. Combining value, styling, and safety, the Passat is a top choice for Uber and Lyft drivers seeking a reliable, spacious vehicle that remains capable of making a statement and standing apart from the crowd.
#6.
Mazda CX-3
The perfect city vehicle. Compact, sporty yet solid and substantial, the Mazda CX-3 delivers Uber and Lyft drivers with agile, fun-to-drive handling; a confident feel; and good fuel economy. Distinctive 18-inch wheels are standard on all models but the base; styling is aggressive and modern, evoking queues from niche premium brands such as Range Rover and Alfa Romeo. Powered by a peppy, 148-hp, 2.0-liter four-cylinder and a six-speed automatic, the CX-3 is a smooth in the city and capable on the highway. The infotainment system includes a 7-inch center display screen is large for its class; a rotary knob that controls phone and audio functions can be clunky at times. The rear seat is tight and cargo space modest; we'd suggest other vehicles, such as the Chevrolet Traverse or Volkswagen Passat, for drivers looking to serve business travelers or large groups. Nonetheless, if you're bread and butter are weekend and weeknight riders looking for a night on the town, the Mazda CX-3 packs value, efficiency, and style in a fun-to-drive ride.
#5.
Mazda Mazda3
For those Uber and Lyft drivers that prioritize value, let us introduce the grossly under-appreciated Mazda3. This car is like the Rodney Dangerfield of sedans; it gets no respect. Albeit much prettier than Mr. Dangerfield, the talents of the Mazda3 are many. Combining sportiness with excellent gas mileage -- 33 mpg overall – costs of ownership for the Mazda3 is amongst the lowest of those in its class. Powered by a 2-liter 4 cylinder engine that packs 155 horsepower and paired with a six speed automatic transmission, the Mazda3 is a joy to drive. Uber and Lyft riders will appreciate a spacious rear seat and unexpected styling that evokes more premium elements found in much more expensive vehicles. Being a hatchback, there is ample space for riders' luggage and personal effects. Like the CX-3, the Mazda3 5-door is a great vehicle for urban Uber and Lyft driving.


#4.
Dodge Charger
We hate boring cars. And the 2019 Dodge Charger is anything but a boring car. Packing aggressive, in-your-face American styling and powered by Detroit-muscle, the Dodge Charger puts you in command of the road and your passengers. The Charger is big and it is comfortable, delivering a smooth ride and a quiet cabin for you and your passengers. Powered by a 3.6-liter V6 paired with an eight-speed automatic transmission, the Charger excels on the open road and over long distances – a perfect vehicle for picking up riders from the airport or for transporting across long distances. For Uber or Lyft drivers driving in all-season climates, all-wheel drive is optional, as are automatic emergency braking and lane-keeping assist. For those Uber and Lyft drivers looking to make a statement and command the road, the Dodge Charger is the vehicle for you.
#3.
Ford Edge
The 2019 Ford Edge excels in rear passenger space and comfort. Offering ample legroom and deep recline, the Edge provides Uber and Lyft passengers with an Economy Comfort+ equivalent of road travel. Updated for 2019 with a revised fascia, updated powertrains, more entertainment options, and more advanced safety features, the Edge is an unexpected, yet practical choice for Uber and Lyft drivers looking for an affordable, truck-like CUV that sits high and drives smooth. A 250-hp, 2.0-liter turbocharged four-cylinder paired with an eight-speed automatic transmission is standard and delivers ample power. Rider-friendly features include generous cargo space, a quiet cabin thanks to enhanced noise dampening systems and a smooth ride. Driver friendly features include the comprehensive Sync 3 infotainment system which has been enhanced to be more intuitive and include more features. Standard safety equipment benefitting both driver and passenger includes a forward-collision warning with pedestrian detection, blind-spot warning, rear cross-traffic alert, lane-departure warning, and lane-keeping assist.
#2.
Kia Stinger
The KIA Stinger is KIA's take on the American and European classic, the sports sedan. Sporting an aggressive stance and a bold hatchback rear, the KIA Stinger makes a strong statement upon approach. A refined interior includes sculpted rear passenger seats, premium fits and finishes and ample room. A 2.0-liter, 255-horsepower turbocharged four-cylinder engine balances power and sport. Available in either rear-wheel or all-wheel drive models, the Stinger owns the road, regardless of conditions. A class leading 5-year / 60,000-mile limited warranty and a 10-year / 100,000-mile Powertrain warranty ensure years of worry-free driving.
#1.
Buick Regal Sportback
The best of both worlds: sports sedan and hatchback, the Buick Regal Sportback has sporty styling that thoughtfully masks its hatchback configuration. Powered by a European inspired 2.0-liter, turbo four-cylinder engine, the Buick Regal Sportback is as engaging in the city as it is aggressive on the highway – a perfect car for the Uber or Lyft driver who serves a broad range of riders. Uber and Lyft riders will appreciate the Buick Regal Sportback's comfortable ride, firm seats, and quiet cabin, where the road, wind, and engine noise are well-muted. Uber and Lyft drivers will appreciate the Buick Regal's responsive handling and confidence on the road. Its grippy has little body roll and confronts all bumps and potholes with ease and elegance. While Android Auto and Apple CarPlay compatibility are standard, most advanced safety features are optional, with the notable exception of a pedestrian-protecting active hood – a benefit many urban drivers will appreciate.
Closing
Considering pre-owned? Interested in financing? Carvana has options for you! With Carvana, you can finance your vehicle with competitive rates, and can even utilize a co-signer! All of Carvana's vehicles are inspected and reconditioned by technicians and have no reported fire, frame, or flood damage according to CARFAX™ and AutoCheck®. Click Here to get pre-qualified with Carvana.


Related Articles