Top 10 Cars For Hiking
By Jakob Hansen, 12/2/2019
In our modern, cement-ridden world, we all need to find our ways to connect back with our natural beings. As great as hiking can be, getting there is half the battle. What are the best cars for hiking, and why?
A while back, a friend told me that to truly connect with nature, you just have to hike barefoot. I questioned it at first, but after I tried it, I was surprised at how much I actually liked it. Call me a hippie, but barefoot hiking is the way to go. Now that being said, I still like to bring a fair amount of equipment with me when I go hiking. For one, I have a three-year-old son, so that in itself requires a significant amount of equipment. Snacks, a change of clothes (we're deep into potty training right now), snacks, water, snacks, and play trail gear like magnifying glasses and other toys to connect with nature. Oh, did I mention snacks? Can't forget those. Other gear I usually bring is a pack full of survival gear, first aid, flashlights, extra water, simple things like that, and of course my husky/retriever named Leo. All in all, the gear can quickly add up. Especially if there is a lake or pond along the trail. Then I have to make sure that I include my fishing gear too. Those double-digit bass aren't going to catch themselves!
There is quite a lot of things to bring along, to say the least. My gear, my wife's gear, our son's gear (he has his own little pack), and our dog. Occasionally, a hike will include kayaks, paddleboards, or bikes as well. So the room is needed for those too. All-in-all, what starts as a walk through the woods can quickly turn into a packing nightmare. I figured there has to be a better solution, so I hopped on my trusty laptop, and did some quick comparisons, here's what I found.
#10.
Volkswagen Golf
The Volkswagen Golf is the answer to many of the "what car is best for…?" question. These little hatchbacks have been hellions from the day they came onto the market in 1974. You can throw up to 53.7 ft³ in the back of these things and still fit two people comfortably in the front. This, plus the fact that the interior is comfortable/well-equipped, has great build quality, and is like a mini luxury car for an amazing value. It's true that a Volkswagen Golf can handle almost anything you throw at it, and still take a corner better than most other economy cars. My sporting side is also here to remind you that there is also a Golf GTI and Golf R that are a hell of a lot of fun to drive. Keep that in mind while you're on your way to the trailhead.
#9.
Chevrolet Colorado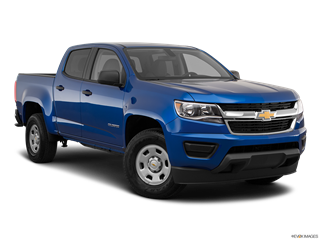 Pick-ups are becoming more and more versatile. What once started as a simple work vehicle has quickly grown to be one of the largest segments available today. People use trucks for everything and using a truck as a daily driver is not as unusual as it once was. The mid-size trucks are especially fitted for use as a hiking vehicle. The Chevrolet Colorado is no exception. The interior is extremely comfortable and has ample room for you and your family and pets, or all of your gear. The tailgate is perfectly fitted for tossing in any wet, muddy, or oversized equipment, and the built-in tie-downs make it a lot easier than ever to keep it from getting tossed around. The real benefit though is when you start looking at the accessories. Bike racks, kayak racks, pull out bed organizers, anything you can think of, they have an accessory to make your life easier with these trucks. Even better, there are no trails that are inaccessible with the ZR2 package which included upgraded suspension, bumpers with better angles and more.
#8.
Toyota Tacoma
The Toyota Tacoma is still the best mid-sized truck around. The Tacoma is so perfectly fitted to its customers, modern in the right ways, and old-school where it matters. The body-on-frame chassis is tougher and more flexible than modern unibody construction, the interior still has analog components like a full emergency brake grab handle. It's also has a solid rear axle and rugged engineering. This may mean that it's not quite as comfortable to ride in, but it will take you anywhere and never leave you stranded.
#7.
Jeep Renegade
The smallest Jeep in the line-up is actually one of the best. The little Jeep Renegade is an amazing platform that has fairly decent off-road creds, and an even better price point. As one of the lowest-priced vehicles on the list, it is more than capable of taking you, your friends, family, anyone down to the trail for a little natural connection. The approach and departure angles are almost as good as the Wrangler, and the AWD system is good enough to get you where you need to be. The best part about it is the Renegade has a removable top to get a little more of an open-air feel when getting to your spot.
#6.
Mercedes-Benz E350 Wagon
Base MSRP Range: $54,050
Tricky tricky, you didn't think you'd see a Mercedes on this list, did you? Well, you're wrong! The E350 is a perfect hiking platform. To start, the wagon has an absorbent amount of space, so you will never have to worry about packing for your long hikes. Second, you won't have to worry about fill-ups, either. The E350 is capable of excellent fuel economy and has a large tank to go further than most other vehicles. Even better, the available AWD is smarter and more capable. Using its traction control system it can move the wagon forward when only one wheel has traction, that's more than any 4x4 can say. Obviously, price is a bit of a factor when considering the vehicle, but I promise you'll be the only one at the trailhead with a Mercedes wagon.
#5.
Jeep Wrangler
The classic Jeep Wrangler will never let you down. By far the most capable off-road vehicle available today, the Wrangler will make sure you can get to the most difficult trails. Available in two and four-door variants, the Wrangler is more than suited to fit your needs. The only downfall of the Wrangler is the storage space. The rear cargo space is nothing short of despicable, especially in the competitive market we're in today. Which is why the Jeep is so high on the list. However, the extreme capability off-road more than makes up for the lack of cargo space. That's what roof racks are for, right?
#4.
Toyota 4Runner
The 4Runner is one of the last true SUV's that we have left. The body-on-frame design shared with a truck, the powerful V6, and the rugged engineering means that this SUV will take you anywhere you need to go. Add the (admittedly expensive) TRD Pro package to the vehicle and you won't really even need to hike, this thing will take you right to the top of the mountain. Truthfully though, the 4Runner is a great hiking vehicle. The high ground clearance means you can take on some nasty roads, the large interior leaves you with room to take everything you need and the outstanding Toyota reliability ratings mean you will never be stranded. The only downfall of the 4Runner is it does demand a premium and the dated interior is in need of an update.
#3.
Subaru Forester
Subaru's connection with the hiking crowd is no accident. The Forester has helped to established Subaru as an outdoorsy brand with the go-anywhere attitude needed. The Forester's large cabin and rugged interior make it just plain easier to do anything you need to with it. Standard all-wheel drive and forward automatic breaking mean you will be safe too.
#2.
Land Rover Discovery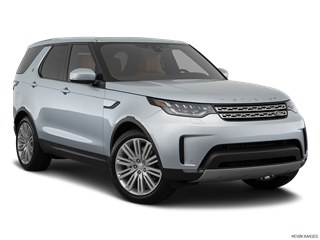 The Land Rover may be the priciest vehicle on the list but it's for good reason. Known as the ultimate off-roading vehicle, and for good reason, the Discovery is capable of landing you and your crew almost anywhere in the world. With the help of advanced off-roading systems, the Discovery can do what other vehicles with larger tires, beefier suspension, and higher lifts can do, and all while in extreme comfort. Interior space is abundant and seating for seven means you can take the family, the dogs, and the neighbors. Obviously, the cost is an issue. At 60 grand, it starts to get a little nerve-racking taking a vehicle off-road. Luckily your 360-cameras will help keep you from damaging your expensive chariot.
#1.
Subaru Outback
The Subaru Outback is the ultimate hiking vehicle. Plain and simple. The standard all-wheel drive will take you anywhere you need to go. The massive 8.7 inches of ground clearance is higher than 8 of the other 9 vehicles on this list. Even better, the interior is more comfortable, quieter, and more relaxing than the Forester, so you get all the benefits, and none of the downfalls. There is also specially designed fabric seats specifically for those of us that like to go a little further outdoors. So when my husky/retriever decides to jump in the lake, I don't have to worry about my seats being destroyed.
Closing
Hiking can be a relaxing and rewarding hobby. The proven health benefits of being in nature mixed with a cardio workout make for a great combination. Having the right vehicle to get you there is half the battle. Ever tried packing a three-year-old and a dog in the back of a 2008 BMW 335i coupe, not a fun task, ask me how I know. Regardless, after trying to pack the family into my car, I felt it was time to maybe start shopping around. This list of fully capable vehicles is my actual list of possible cars.
Related Articles